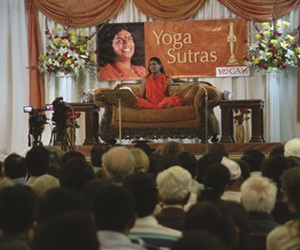 In 2009, Paramahamsa Nithyanada delivered a year-long discourse on Patanjail's Yoga Sutras, an important spiritual scripture which has inspired millions of seekers and yoga enthusiasts in both the East and the West. In the Yoga Sutras, Patanjali, a spiritual scientist and the founding father of Yoga, discusses the truths about yoga in a straight-forward manner so that seekers can immediately experience the benefits of Yoga practice. Patanjali teaches the science of life, the science of living and the science of Yoga (uniting).
In this series of talks on the Yoga Sutras, Paramahamsa Nithyananda clearlydelivers his knowledge of this scripture, giving the listeners his deeper understandings of each Sutra (Sutra means 'thread'). The Yoga Sutras are an important scripture for every yoga practitioner just beginning their spiritual path as well as for those who have been practicing for years.
In 2011, Paramahamsa Nithyananda delivered a second year-long discourse on the Sutras, revealing new and deeper truths to eager audiences in fresh and riveting way.
Patanjali directly gives seeker the science of enlightenment. He gives everyone the key to change the way in which you are living. These two series of discourses from Parahamsa Nithyananda are highly recommended for all yoga practioners.
Introduction to Patanjali Yoga Sutras by Paramahamsa Sri Nithyananda:
http://youtu.be/ntVAYyjElo4?list=PLPuYU12YRPyB91APqgwBZajuWdSysAFtN