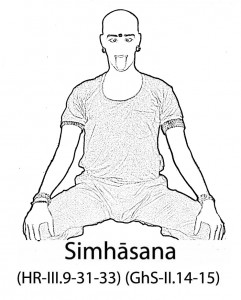 (HR-III.9-31-33), (GhS-II.14-15),   
Slokha: 

Translation:   Knees are placed on the ground, and both ankles under the scrotum on either side of the perineum in a way that they are crossed under the perineum.  Fix the gaze at the tip of the nose, keep mouth open and palms on the knees.
Benefits:
Relieves tension in face and chest and increases blood circulation
Eye health, stimulates their  nerves
Removes defects of the throat, nose, mouth and ears
Helps prevents sore throat, asthma and other respiratory ailments
Stimulates & firms  the platysma, a thin muscle in front of throat
It helps solve many voice related problems like stuttering
Opens and stretches the groin, thighs and knees
Kundalini easily moves up the spine
Destroys all diseases.
It facilitates the application of the three bandhas.