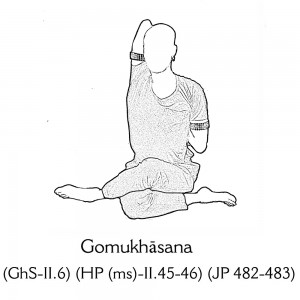 (GhS-II.6) (HP (ms)-II.45-46) (JP 482-483)
Slokha:

Translation :The right ankle should be placed near the left buttock and the left ankle to be placed near the right buttock. This is called Gomukhasana (resembling the cow's face).
BrYs-III.19-20, SYK -52, SVY-18– all suggest to place right hand vertically over the back from above and left hand placed on the back from below and to hold the fingers of the hands together.
Benefits:
Known as "Royal Pose", it stretches the hips, thighs, ankles, chest, shoulders, anterior deltoids, triceps, inner armpits and lats
Stretches the low back, buttocks and knees
Relieves back ache, sciatica and rheumatism
Opening the chest and upper body, increases lung capacity
Helps with asthma, anxiety and stress
Calms the mind
Induces relaxation, relieves tension and worry
Stimulates the kidneys
Helps with blood pressure, diabetes and sexual dysfunction
Overcomes fistuals and piles
Controls apana vayu  through moola bandha (the downwayd flowing energy)