The Nithya Yoga Practice, is a beautifully structured ninety minute class that includes most traditional yogic practices including asana (body postures), pranayama (breath control techniques), mudra (hand gestures) andsivasana (relaxtion). In total, we have ten different techniques that we practice in a Nithya Yoga class:
Click here for the detailed description of the Nithya Yoga Practice
Nithya Yoga classes are conducted frequently in various parts of the world where we have certified teachers.
Click here to find your nearest Nithya Yoga teacher
Click here to view our schedule of Nithya Yoga classes all over the world
FAQ
Is 'Nithya Yoga for Being' suitable for beginners?
Yes the 'Nithya Yoga for Being' class is suitable for all levels, whether you are brand new to yoga or at an intermediate or advanced level.
What is the duration of a Nithya Yoga class?
The Nithya Yoga for Being class has a duration of 1.5 hours – 2 hours. It is always best that students plan to be there throughout the entire duration of the class.
Do you need to be flexible to do Nithya Yoga?
Flexibility, strength and balance are not required for someone to attend a Nithya Yoga class.
Is it necessary to have done any other yoga practice before starting a Nithya Yoga practice?
No. Actually the less experience you have in yoga, the better and easier it will be for you to enter the Nithya Yoga class. You will be able to enter the class with a complete curiosity and an open mind and take the most out of it.
Is there anything I need to bring to a Nithya Yoga class?
Just bring your self, an open mind and an intensity to go deeply into yourself. Apart from that, there are some general tips and etiquette you can keep in mind before coming to any class.
General Tips
We do not advocate in Nithya Yoga drinking lots of water during class. Please ensure you hydrate by drinking water one hour before you come to the class. You can bring a bottle of water, but try to start sipping only after the class finishes.
Please come with an empty stomach; meaning after a main meal, at least give a 2 – 3 hour gap before starting your practice.
Wear comfortable and loose clothing. Please avoid jeans, belts and any other tight fitting clothing. If you are coming to class before or after work, try to bring a change of comfortable clothes.
We don't advise that people who have high blood pressure, heart problems, have had recent surgery or who are pregnant to practice Nithya Yoga.
General Yoga Etiquette
Aim to arrive at the venue where the class is being conducted at least 10 – 15 minutes early. This is the case especially if you are doing Nithya Yoga for the first time. The teacher will need you to sign a waiver and they may give you a small brief about the class. You will also get the chance to let the teacher know if you have a condition or injury that may require special instruction or modifications.
Avoid bringing pagers, cell phones and other such items into the classroom. Remember that your Nithya Yoga class is the appointment you have made with yourself. Honour that appointment and use this time to be completely with yourself.
If you have your own yoga mat, you can bring it along otherwise most teachers will provide mats for you.
If you come to the class with a family member or friend, avoid standing next to them in the classroom. Again we use this class to completely go inwards and focus on ourselves. Usually when students come with others they know, they end up being a distraction for each other.
In Nithya Yoga, we advocate highly one of the yamas in ashtanga yoga and that is aparigraha. This means 'living with minimal things'. Avoid bringing blankets, cushions, pillows, notepads, books and other bulky items to the class. Bring the bare minimum things and put the aparigraha into practice.
Schedule
Timings

Thursday's 7-8:30am

Saturday's 7-8:30am

Sundays 7-8:30am
Venue

Income Tax Colony, SaltlakeCity,Kolkata, INDIA
Contact

Ma Ranjani 0983639333
PhotoGallery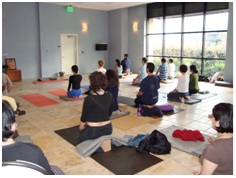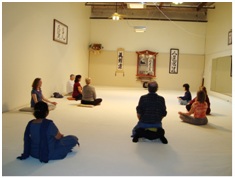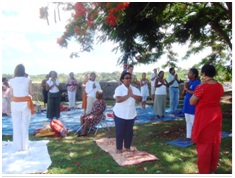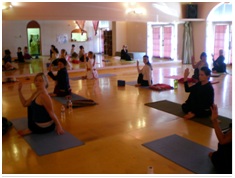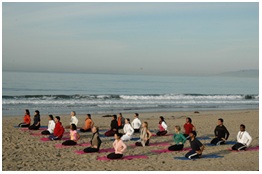 http://yoga.nithyanandatimes.org/wp-content/uploads/sites/7/2014/07/yoga_img1.jpg
210
335
Nithyananda Times
Nithyananda Times
2014-08-11 08:36:00
2022-12-06 20:30:10
Nithya Yoga Classes